About Nation Valley Ranch
Meet Coach Jen Byvelds And Her Team
Meet the Head Coach/Founder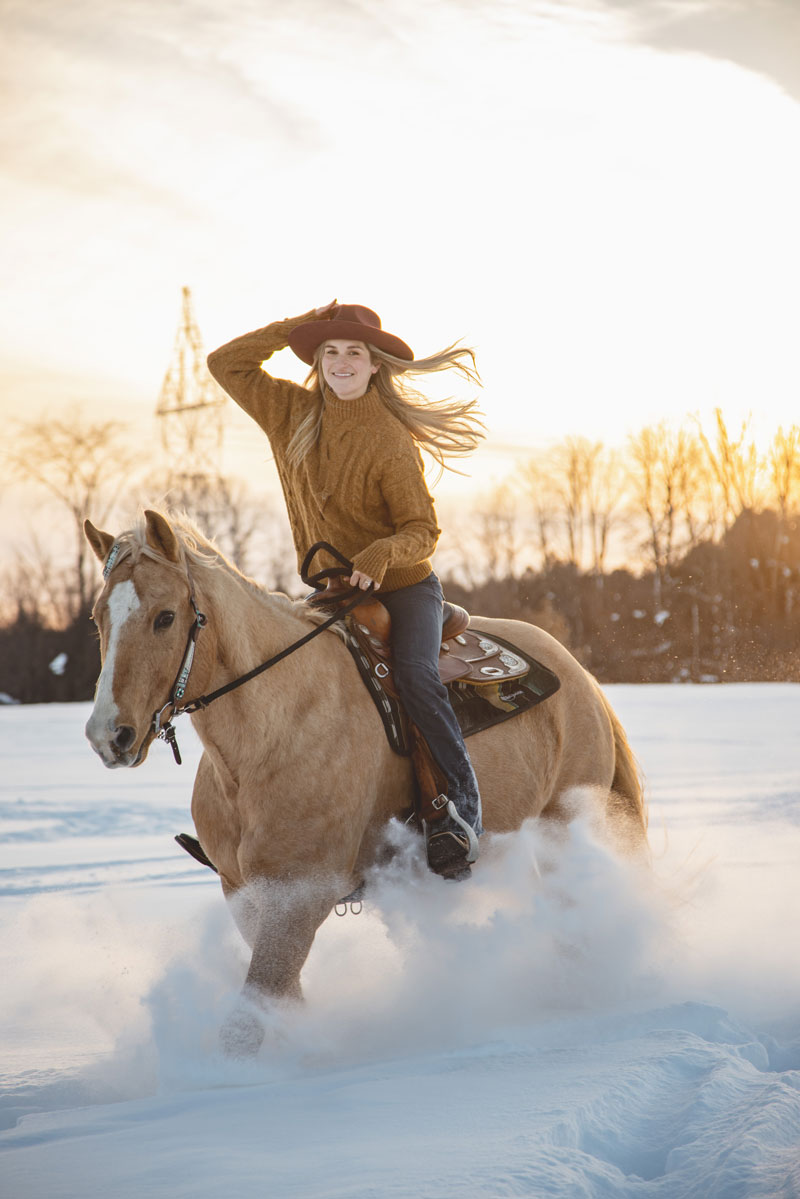 Jen Byvelds has a strong and diverse background in many equestrian sports.
She has a diploma in Ag and Equine Sciences, and Recreation Facility Management. Today, Jen specializes in coaching equestrian performance acts and team sports.
She has had the opportunity to travel the eastern circuit playing intercollegiate Polo, leading her team as captain, and returning after graduation as coach. The team played at such schools as Harvard, Yale, Cornell, UMASS, and Vassar.
Jen is the founder and head coach of The Capital Cowgirls Drill Team, a spectacular choreographed team that performs equestrian routines in front of crowds of over 10,000 people.
She has completed her Training Certification course for Vaulting and Her vaulting program is the only one of its kind in the Ottawa region. Her competitive students have been successful in provincial Shows, and have performed locally at many events, including The Royal Winter Fair, and RCMP Sunset Ceremonies. 
Jen is a certified Harmony Horsemanship Level 3 Instructor, specializing in Liberty. The bonds and trust this type of training builds means her horses are safe and gentle for students of all levels and disciplines.
Jen's love of horses began at age 8, when she attended a summer horse camp. Upon her return, she begged her parents to sign her up for lessons.
Jen has a diverse background in many equestrian disciplines. Starting at her local pony club shows, Jen grew up showing hunter/Jumpers in the GTA and surrounding areas. After high school, Jen got to ride with Lindsey Partridge, founder of Harmony horsemanship, starting young horses. Polo captured Jen's attention while in college.
Today she runs Nation Valley Ranch with husband, Dan, and their three children, as part of the family dairy farm.
She loves teaching children the basics of horseback riding in her How To Ride programs and summer camps.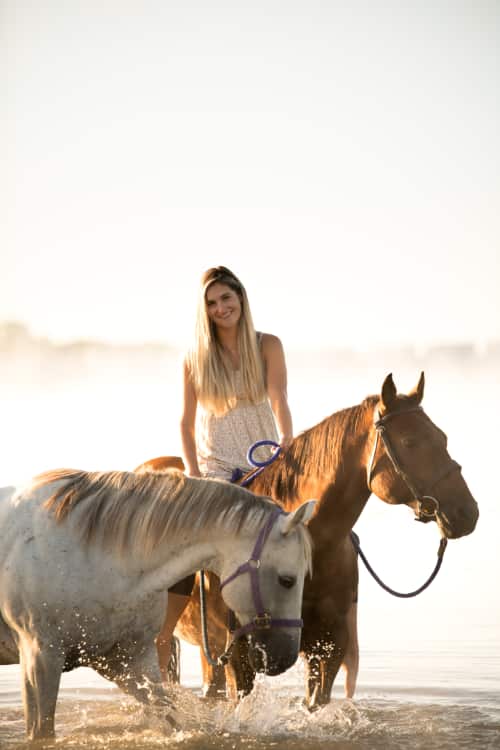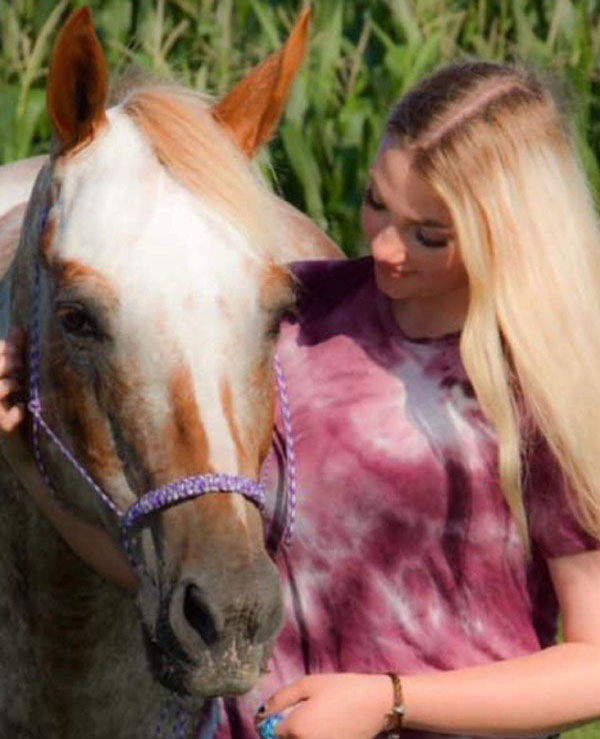 Lauren has been part of the Nation Valley Ranch team since it first opened. She is currently completing the Vault  Assistant Trainers Course in 2022 and is up to date in First Aid Training.
She is also a member of the Capital Cowgirls, with her horse, Blue Jeans.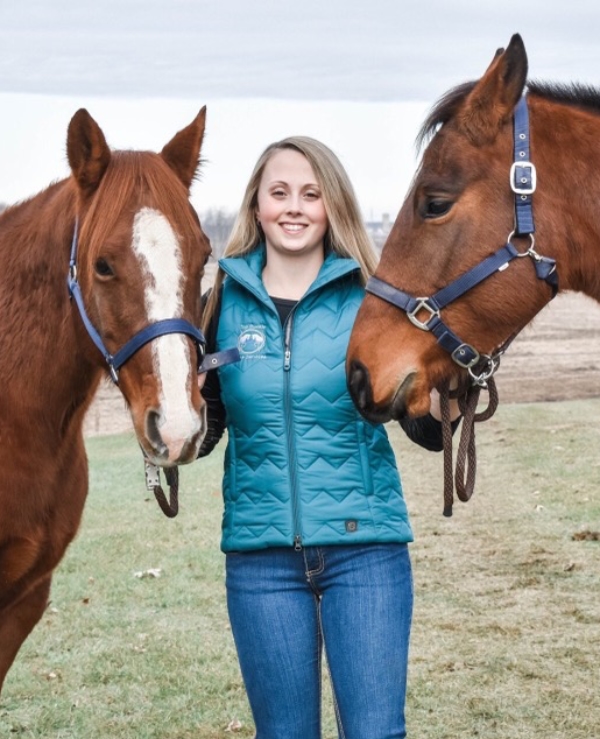 Kirsty has been part of the NVR team since 2022. She has an English and Western background, and has a quarter horse named Socki!
Beau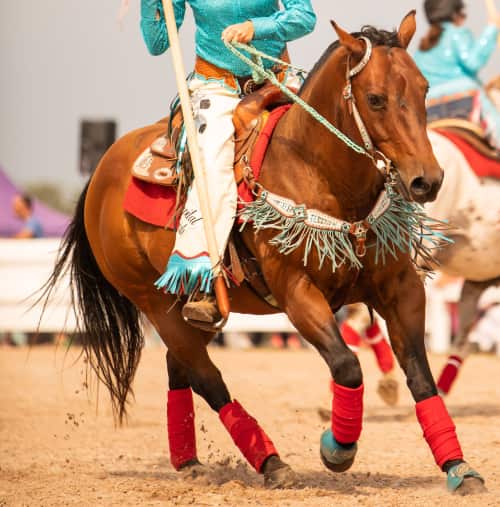 He may be known as the slow and steady, but this quarter horse gelding has a resume that would impress even Yellowstone! 
Born in Texas from the famous father Play Gun, Beau is a machine working cows, and a very nice reining horse. Now retired from the show ring, Beau putts along and takes excellent care of beginner riders and all levels of vaulters.
Beau was Jen's Drill Horse for 5 seasons. He has appeared in the 2019 Hallmark Christmas film 'A Cheerful Christmas' and been featured in articles and appeared on CTV News. He is the heart of the Ranch, and Jen's most beloved horse! 
Corona (Coco)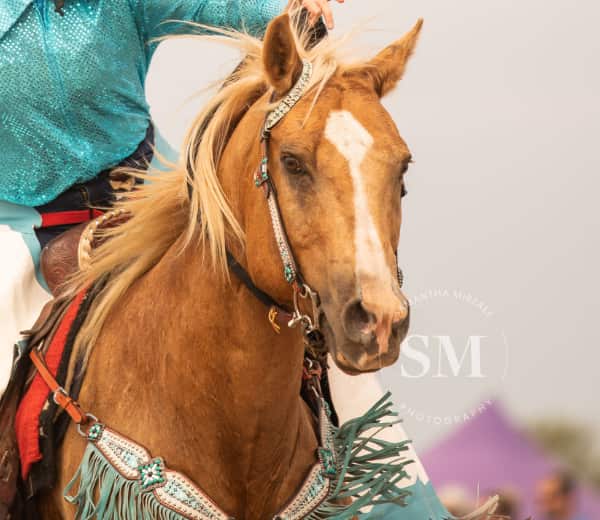 Corona has been part of our lesson program since day 1.
He's a gorgeous quarter horse gelding who turns heads in the hunter ring, and when riding with The Capital Cowgirls Drill Team.
He loves falling asleep while being groomed, and his favourite class is Kinder Club, because he can show off his talent of slow motion.
Willow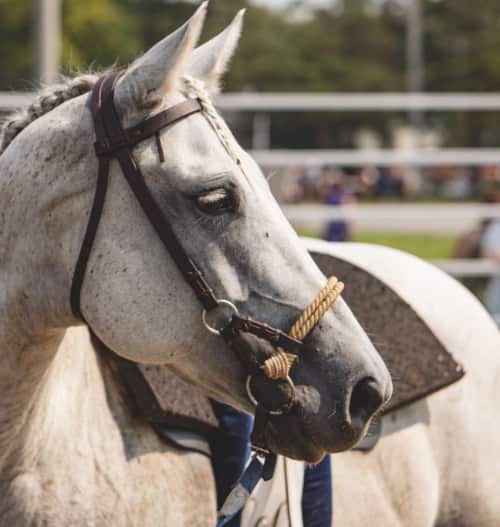 This grey quarter horse mare is everyone's favourite vaulting horse! She is smooth and beautiful.
Willow has two speeds; slow and steady for the younger kids, but she can also fly like the wind when the older kids set up the barrel racing pattern.
Willow has done it all, from reining, working cows, riding with The Capital Cowgirls, and appearing in multiple films, most recently Station 11 on HBO Max and Crave. 
Chippy
Vicky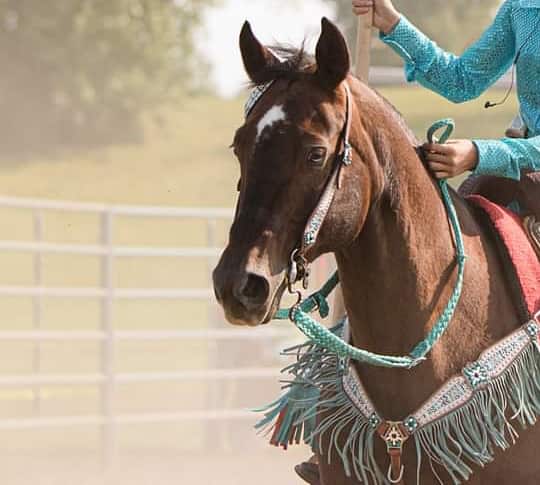 Vicky is a liver chestnut quarter horse mare. She was purchased as a horse for Jen's daughters.
Vicky has had a very successful youth as a western pleasure horse, winning classes at congress and Tom Powers futurity. She was then a broodmare, but retired from motherhood in 2019.
She is living out her semi-retirement being very loved by many children, and is becoming a new favourite for vaulting.
Sophie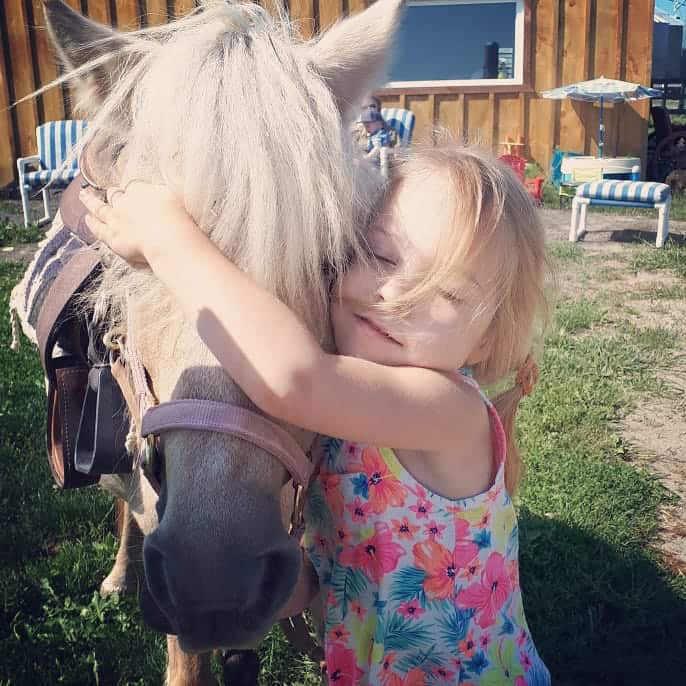 Sophie the Pony, loved by all the kids, she is a cheeky little lady!
Elliot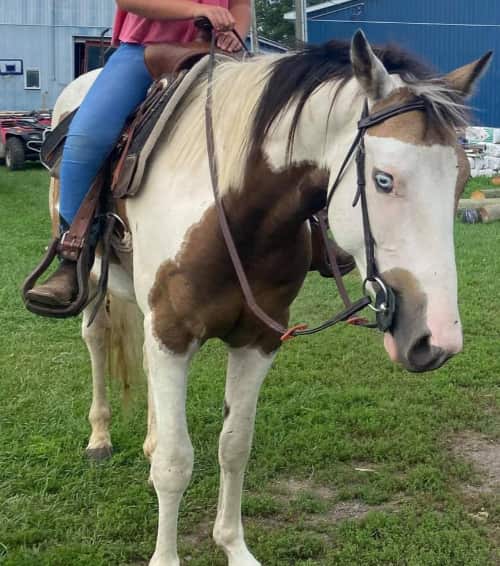 Elliot is a stunning tri-paint, with two big blue eyes.
He is the youngest horse on the farm, but you would never guess so, as he has an old soul.
Elliot loves obstacles and driving the cart! Honestly, this guy loves to do everything as long as you're giving him attention.
Blue Jeans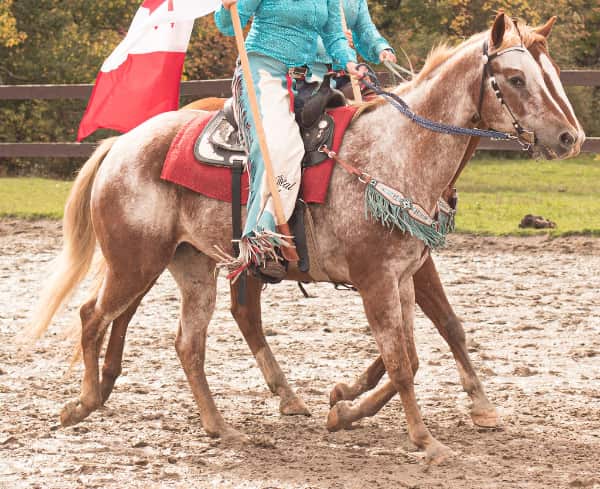 Blue Jeans is a fun-coloured Appaloosa gelding, owned by instructor Lauren.
He can be speedy, making him a favourite with many who get lucky enough to ride him.
He's always an eye-catcher when riding with The Capital Cowgirls Drill Team. 
Reba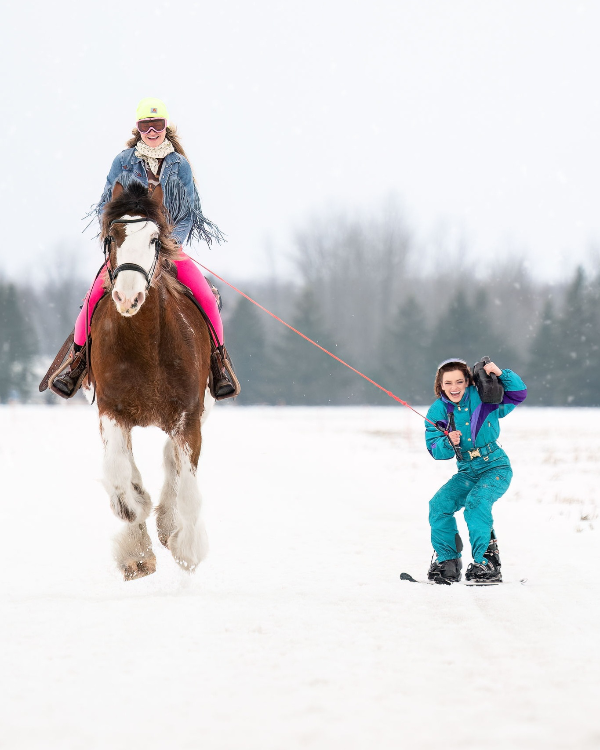 Reba or "meme" is our Clydesdale and largest vaulting horse!
Don't let her size scare you, she is a true gentle giant and the sweetest soul.
She has many talents, vaulting, riding and driving! 
Rain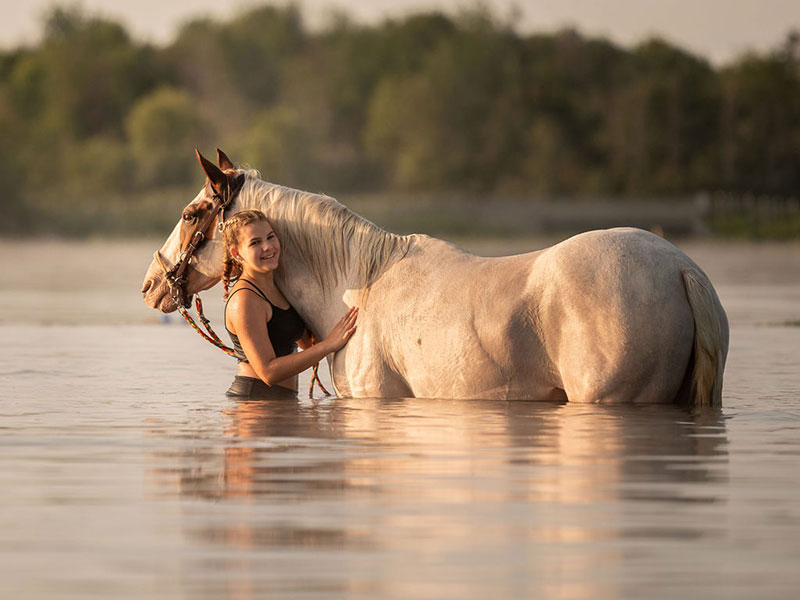 Rain was the first horse ever purchased by Jen, back in 2006. She was a gorgeous medicine hat paint, and was the most popular riding horse at the ranch, especially with the younger children.
She had a big personality and a bigger heart. She did everything from western games, working cows, playing polo for many years, riding with The Capital Cowgirls Drill Team, shown extreme cowboy, and much more.
Rain was in the Hallmark Christmas movie A Cheerful Christmas.
She will live on forever in our hearts.
Experience the thrill of horseback riding at Nation Valley Ranch. All experience levels are welcome in our Western Riding and Vaulting lessons. Gain confidence, make new friends, and improve your horsemanship skills by joining a class today.