Home of the Nation Valley Ranch Vaulters.
Where Dance and Gymnastics Meet on Horseback
2023 Fall Semester
Vaulting Classes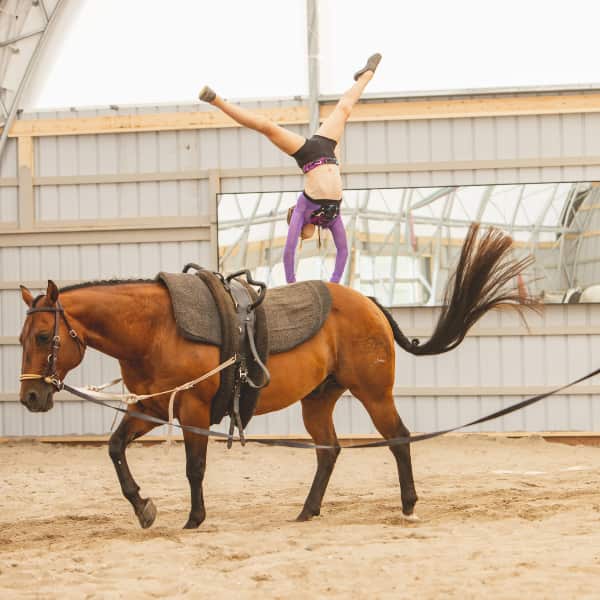 Vaulting From the Ground Up
Ground Skills
Students registering in our recreational vaulting program start in our walk levels.
Our recreational classes start with building skills on the ground.
Vaulting at a walk
Once students have built skills on the ground, they progress to our barrel horses and horse simulator.
Once ready, the class will move onto the real horse at a walk.
Progressing & Performing
Progression into faster levels consists of the completion of our club's assessment program. Students can be assessed by our coach at the end of each semester to complete their class skills in categories such as balance, strength, compulsories, and freestyle.
The Nation Valley Ranch Vaulters
Students who have finished their first semester will be eligible to join our competition program and squad classes. These are our cross training classes, where we work with instructors specializing in dance, gymnastics, acro yoga, aerials arts, and more!
Your vaulter will get to work with Coach Jen to choreograph their own routine for provincial shows.
We are so proud of our Competitive program. Our vaulters have been extremely successful at competitions against vaulters from across Canada.
Our squads have also performed in front of grandstands at many local events.
Please Note: Vaulting does not run for the winter semester.
Our Vaulters Put on a Show!
Each year before we break for the winter, our Vault Club holds an annual recital where our vaulters put on a spectator show for their families.
Frequently Asked Questions
What is vaulting?
Vaulting is the performance of gymnastic and dance-like movments to music on a moving horse.
The horse is controlled by a lunger who sends him in a circle around them on the end of a lunge line which is attached to the bridle. The horse also wears a special sercingle around his belly, which has hand grips and stirrup-like loops for the vaulter's feet. Vaulters begin working in walk and progress from there.
Is vaulting the same as trick riding?
No. American trick riding is done in a trick riding saddle, and performed at much faster speeds. Riders show tricks and control their horse solo.
What equipment or clothing do I need to buy?
For pre-competition vaulting, most clubs only require stretchy pants (which can be picked up at the local thrift store) and a pair of basic water shoes, making vaulting one of the lowest start-up costs of any kid's sport.
Once vaulters proceed to a competitive level, they will need a competition suit, team tracksuit, and vaulting shoes.
You can purchase vaulting shoes online at Skyline Equine.
Do I need to know about horses to start vaulting?
You don't need to know a darn thing about horses to begin vaulting.
You don't need to ride to vault, but if you do, vaulting will greatly enhance riding skills.
Do I need to have a background in gymnastics and/or dance before vaulting?
Absolutely not. For those who are already involved in dance or gymnastics, vaulting will help improve those skills.
Why have most people never heard of vaulting?
Vaulting is very popular in parts of Europe and is steadily building a following in the USA. Canada is just beginning to grow this sport.
Is vaulting safe?
Vaulting is the safest of the equestrian sports.
Vaulting is done in a controlled environment in a fully enclosed arena on a consistent, large circle in soft footing. A lunger always controls the horse.
I'm not sure I want to commit to a full semester. What should I do?
We recommend that you book a trial lesson to see if it's for you. Trials are $50 (plus ) and can be booked by contacting Jen at Jen@nationvalleyranch.com.
What payment options do you provide?
There are 3 options for payment:
During online registration. Payment can be made either in one payment, or in equal amounts for each month of the semester.
E-transfer of the full amount for the semester prior to the start of classes.
The first month by e-transfer to confirm your spot, and then provide post-dated cheques for the first of each month for the remainder of the semester.
What happens if I miss a lesson?
Lessons cancelled by NVR will be made up; lessons cancelled by the vaulter will not be offered a make-up class. Please view our cancellation policy fine print during registration for details.
Where do I park?
We have a designated parking spot available. Please see our ranch map below.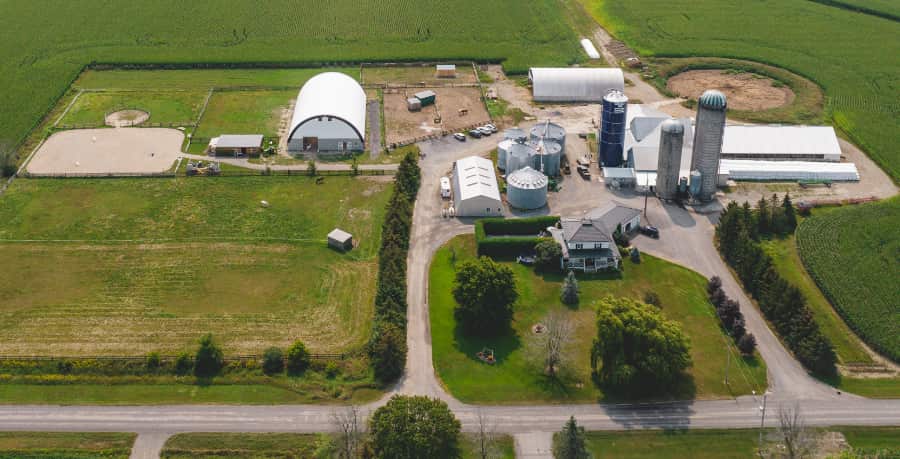 Parking
Please stay off the grass.
Experience the thrill of horseback riding at Nation Valley Ranch. All experience levels are welcome in our Western Riding and Vaulting lessons. Gain confidence, make new friends, and improve your horsemanship skills by joining a class today.